Companies pursuing global expansion and growth must determine which international business strategy will work best for their business. This is the second installment of an international business strategies series that will explore international, global, multi-domestic, and transnational strategies commonly used to target new markets within international borders.
All the strategies mentioned above require a specific level of commitment around four main factors. Those factors are local responsiveness, global integration, standardization, and customization.
Local Responsiveness
Local responsiveness refers to a company that localizes its products and services to meet conditions and nuances in other countries.
Global Integration 
Global integration refers to a company's local presence in the global market and the degree to which it can use the same products and services in other countries.
Standardization
Standardization refers to how a company does a "one size fits all" for the same products and services in other countries.
Anpassung
Customization refers to the process through which a standard message, procedure, or offering may be adapted according to the context or market in which it will be used.
What is an International Strategy?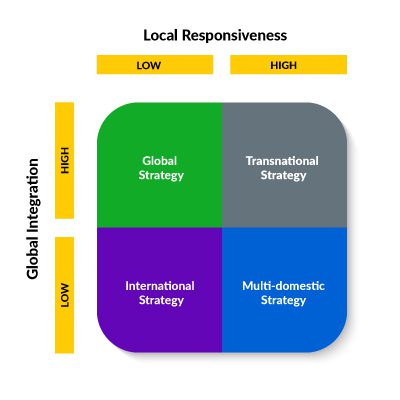 An international strategy, also called an export strategy, takes existing products or services created for a domestic market and sells them internationally without customizing them to fit local preferences and conditions. International strategies are low in local responsiveness, low in global integration, low in customization, and high in standardization. They broaden the existing domestic offering internationally with minimal changes.
International strategies can be valuable for companies with products or services that don't require high degrees of local responsiveness and localization. They're also beneficial for companies that want to focus on their domestic operations but have low-cost pressures to access international opportunities. International strategies are not responsive to unique conditions in different markets and are not interested in creating an integrated global strategy. That is why international strategy tends to be the first corporate strategy used for international expansion.
There are several international business strategies to compare this to, here are a few examples:
Transnational Strategy – This strategy is, in some ways, is a combination of multi-domestic and international strategies. It leverages both a high level of standardization, a high level of local responsiveness and a high level of global integration. In this type of strategy, organizations attempt to benefit from the efficiencies generated from standardization while at the same time leaning on global branches to localize aspects of their messaging and offerings to local preferences.
Multi-domestic Strategy – This is a strategy that ranks high on local responsiveness but low on global integration. A multi-domestic strategy adapts to local responsiveness to satisfy the demands of domestic markets. Each country or market receives a customized version of a product.
International Strategy – This is a strategy that ranks low on global integration and low on local responsiveness. Apple is a good example; it sells standardized products globally without adjusting the model or price for each market.
What Makes an International Strategy Unique?
When domestic markets become hyper-competitive, internationalization is a common strategy to broaden from the traditional market and generate more revenue. An international strategy tends to be the first option because companies can leverage their existing capabilities and export them abroad. Control over all international operations tends to be centralized from the home country headquarters (HQ). By centralizing control and having high standardization, low global integration, and local responsiveness, international strategies give companies the immense opportunity to access new markets with minimal cost, effort, and total control.
In this strategy, the global market is viewed as secondary. Operations, technologies, and workers simply export the same products and services from the parent company to global markets. Subsequently, decision-making is centralized at HQ, which causes things to move slowly and creates inefficiencies. Therefore, this strategy is most appropriate for industries that don't require a lot of change and therefore can succeed with low degrees of global integration and local responsiveness. Some examples are manufacturing (textiles, paper, metals, machinery), publishing, and in many cases, technology,
Advantages and Disadvantages of International Strategies
Instead of investing in timely and costly initiatives like finding the right people and infrastructure, international strategies are an extension of a business's existing domestic strategy in global markets. This allows businesses to centralize global operations and brand decisions without investing heavily in global expansion, headcount, and continuous product localization. However, this introduces challenges like translating online and offline content, offering proper customer service in their preferred languages, and generating demand and brand awareness.
Advantages of an international strategy:
Instant access to new markets
Increased utility of your existing competencies and assets from centralization
Faster scale through a standardization
Benefits from economies of scale. Increased profit margins can stem from economic arbitrage by keeping production costs at HQ the same.
Disadvantages of an international strategy:
Consistently translating the website and multichannel content
Legal compliance, barriers of entry, and high taxes and tariffs for imports and exports
Customer service, with different time zones and different languages
Driving demand and awareness in the new global market
Developing an International Strategy
An internal committee typically operates international strategies at the home country headquarters. The committee in charge needs to use the company's internal resources to take its products or services to international markets. They are responsible for understanding the international market's affinity for their product or services and ensuring the company can expand internationally without local responsiveness or global integration.
With a proper international strategy, multinational enterprises can leverage the benefits of standardization to instantly expand their market reach at low costs. They operate at a high level of communication, knowledge, and productivity to meet strategic objectives across various markets.
7 Steps to Develop International Strategy:
Research the markets where you are planning to expand. It's important to consider foreign policies, regulations, and logistics when identifying potential barriers to entry.
Understand the nuances of the culture and the language. The same language can have different dialects, with differing meanings tied to the exact words.
Understand the local economy. This is crucial to identify if the international market's price point preference allows you enough leverage to compete.
Get to know the target market. The consumers of a product might differ across countries. By ensuring potential customers are willing to buy your existing product without having to add more value to the product or lower production or fulfillment costs.
Analyze how much global integration and local responsiveness you need to succeed and stay competitive. Look for product-market fits that require minimal local responsiveness and global integration.
Determine your translation approach by identifying the type of translation services you need and the costs associated with your goals. International strategies may still require some degree of translation. You will need to ask how your organization will want to translate and then standardize messaging for each international market.
Write out the plan. The global economy changes daily. By creating an actionable plan to achieve your business goals, you can better determine how to stay agile in your global business strategy.
It's crucial to understand how the strategies that may have worked in one market (or company) may not be successful in another. The more agile and receptive you are to buyer tendencies in different regions, the faster you can implement changes.
International Strategy and Language Translation
In a digital world, a successful international strategy can be even more challenging as international companies juggle multiple websites and digital experiences in different languages. When websites, mobile apps, or portals are in the mix, it's hard to initially translate and then continuously standardize content and messaging in different languages. That is where translation technology can help.
The right translation services can instantly standardize messaging across all markets, while also allowing the ability for local branches to customize certain elements (web pages, promotions, offers) in different languages. With superior translation technology and an efficient international strategy, companies can rapidly expand to new markets.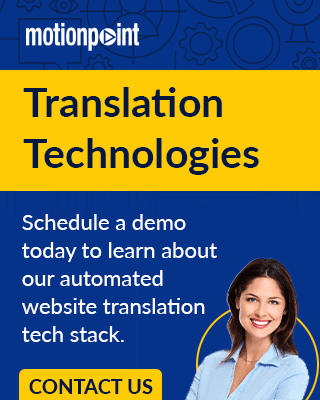 Leveraging Translation in International Strategies
There are multiple ways to start executing a profitable international strategy. But regardless of your go-to-market strategy, your company should seek to pursue robust translation workflow processes and high translation quality. Efficient communication will play a significant role in your success. And the best localization company can help you do that fast.
Once you have identified your approach to your international strategy, MotionPoint's unique translation technologies can help you reach the level of scalability and efficiency your team needs to stay competitive in an ever-evolving global market.
Connect with one of our translation and localization experts today—we'll help your team design a solution to help your organization become a preferred brand, no matter where you operate.
Letzte Aktualisierung: 25. Mai 2022